One Tech, One Child Initiative – Chandim
---
A Letter From Chandim
Dearest Min and Gary,
How are you doing on these days? I hope this email finds you very well. Here I am fine. Today I am pleased to write you another email and tell you all about myself as I promised in my previous email. This email will tell you all about my life before and after I became a CCF child and I hope that you will know me better than before. But to do this, I need the help from my mail translator who will help to put my words to you. Now let me start telling you about my life.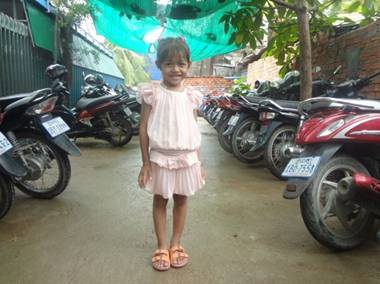 Again, my name is PheaChandim. Phea is my family name and Chandim is my given name. Everyone calls me Chandim and you can also. I am a girl who was born in a poor family that made up of 4 people, my parents, my older brother and me. I am the youngest child in the family. I was born on 08th January, 2008 in SteungMeanchey Community, Phnom Penh City,so now I am a 5 years old. Presently, my family and I live in a rented room in SteungMeanChey, previously the main rubbish dump site of Phnom Penh City.
Going back a little, my mother told me thatshe is a villager from Takeo province and my father is from SvayReang province. They got married in 2002 and worked as farmers. A few months after their wedding, they moved to live in Phnom Penh where my mother worked as garment factory worker and my father works as construction worker. My parents tried to work hard every day to make living for the family but their income was not enough to support the family's needs. In 2007, my mother was pregnant with me and stopped working at factory because she was too weak to work there. While my mother stayed at home, she sold fried banana in front of the house but she could only earn a little money from this work. So then, she stopped that job and started to scavenge the garbage which she at least earned a little money every day and sometimes my older brother went with her to scavenging. They would collect recyclable scraps from the dump and re-sell them. The hardship happened in my family when my mother gave birth to me and could not work anymore. So my father is the sole breadwinner in the family and earns a very low wage.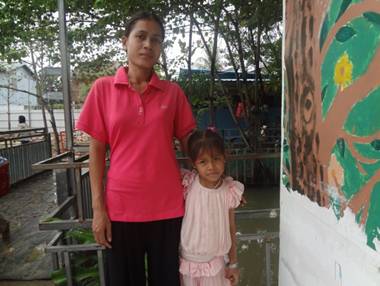 Here is a picture of me that my mother asked Pa Scott to take!
One day, my mother got to know about CCF,the place that provides education to impoverished children without charging money, from her neighbor. So my mother came to CCF and asked CCF staff to enroll my older brother to study but their first interview was unsuccessful. Later on, my mother and my older brother met Scott at the CCFCC in the evening of delivering soup. Again, my older brother asked Scott to study at CCF. Then Scott gave a voucher to my mother and told her to bring my older brother for interview. Because of my family situation, my brother was then accepted into CCF.
For me, I am 5 years old now but I will turn to 6 years old on 8th of January. I really want to go to school and have many friends just like other children have. I want to be a nurse when I grow up.
For me, my mother and I met Scott when he was at our village one evening. At that time, I asked Scott to study at CCF. Then Scott told my mother bring me to CCF and get interview. Then our interview passed and I was accepted into External Education Program (EE). So now I study English and computer at CCF SambokChab Satellite School. Here I have many friends and I enjoy with my class very much. CCF also provides soup, bread and rice, some study materials and uniform to me. I love CCF.
Now my mother get a job as a tailor at home and my father still work the same job as a construction worker. My parents have believed that CCF will provide a better life for me and my older brother.
Gary and Min, these all are about my life. How do you feel after read this email? If you have any question about me, please let me know. I am pleased to answer all of your questions.
My dearest Gary and Min, thank you so much for your generosity and love to me and my family. Your support will make my life brightly.
Love You,
Chandim