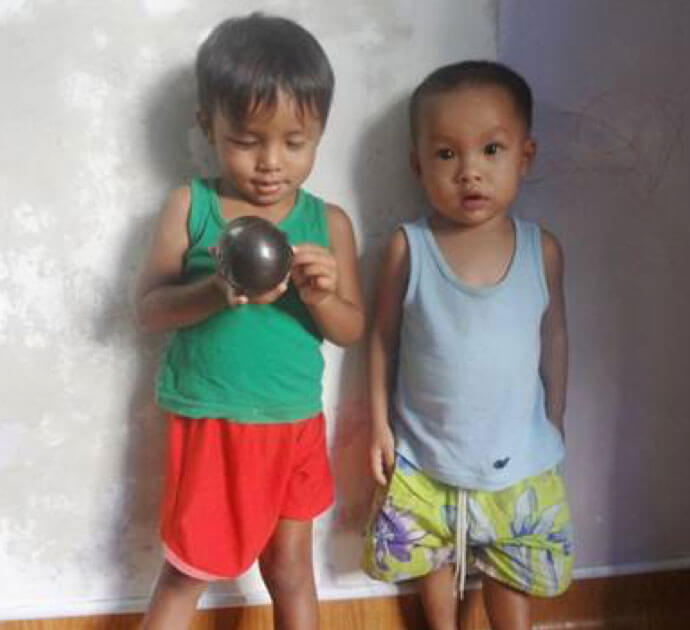 One Tech One Child Initiative – Mondol & Yimey
---
A Letter From Mondol And Yimey
Dearest Gary,
How have you been keeping? I hope that things are going on very well and smoothly with you there. Let me introduce myself: I am Yimey, CCF mail translator. Today, I am really delighted that I am able to write this long email and tell you in a little bit more detail about your sponsored child Mondol. I will tell you about his family as well as how he came to be at CCF, and I do hope that you will get to know more about him and share this with your family, too. And this is his story:
Born to a vulnerable family in Steung Meanchey, the former dump heap of the city, Mondol is the youngest child of his family. His full name is Kim Mondol. Kim is his family name, so you can call him Mondol- his Christian name. He will turn 2 years old soon as he was born on 18th November 2011. There are a total of 5 members in his family: his parents, two sisters and Mondol himself, and presently, they live their lives in a small shack on a tiny plot of rented land near one of CCF's satellite schools. To deal with their daily expenses, his mother works as a childcare employee for CCF while his dad works as a cleaner for a private company.
Going back a little to the past, Mondol's parents were formerly people from Svay Rieng province near the border of Cambodia-Vietnam. Living in the province, they shared a house with Mondol's grandparents after they got married and worked as farmhands in order to make a living. They didn't have any plots of farmland of their own, so they spent most of their income on rice. They always faced a lot of troubles since their income always came to less than their expenses; Moreover, growing season lasted only for only a period of time which meant that they became jobless for the rest of the year. To have enough for the family to eat, his parents decided to travel to work to the sugar cane fields in Vietnam. They both had to get up early and leave home in order to get to work and usually returned home late in the evening. They both tried very hard to work, but their income was never sufficient for their expenses at all.
After hearing from many of their neighbors of the scavenging work in the city, his father himself came to Phnom Penh with their neighbours and began scavenging for recyclable garbage on the dump heap. He could earn at least enough for his daily expenses, and when he found a shack to live in, he decided to bring his whole family to the city. At that time, Mondol's father and mother went out scavenging from dawn till dusk and they also had to take their daughters with them as there was nobody to take care of them at home. Sadly, after giving birth to Mondol in 2011, his mother fell sick and couldn't go out scavenging anymore, so his father became the breadwinner in the family. Unfortunately, his father alone couldn't bring in enough money for proper meals for his family at all and they had to spend much money on Mondol's mother's medical treatments.
Things turned from bad to worse, when Mondol's father stopped supporting the family and spent the money he earned for his own benefits. Mondol's mother had to take the children to the dump heap to hunt for recyclable trash whenever she felt able. This family faced a lot of hardship and never had enough to eat at all. Mondol's oldest sister was unable to attend school either due to their meagre income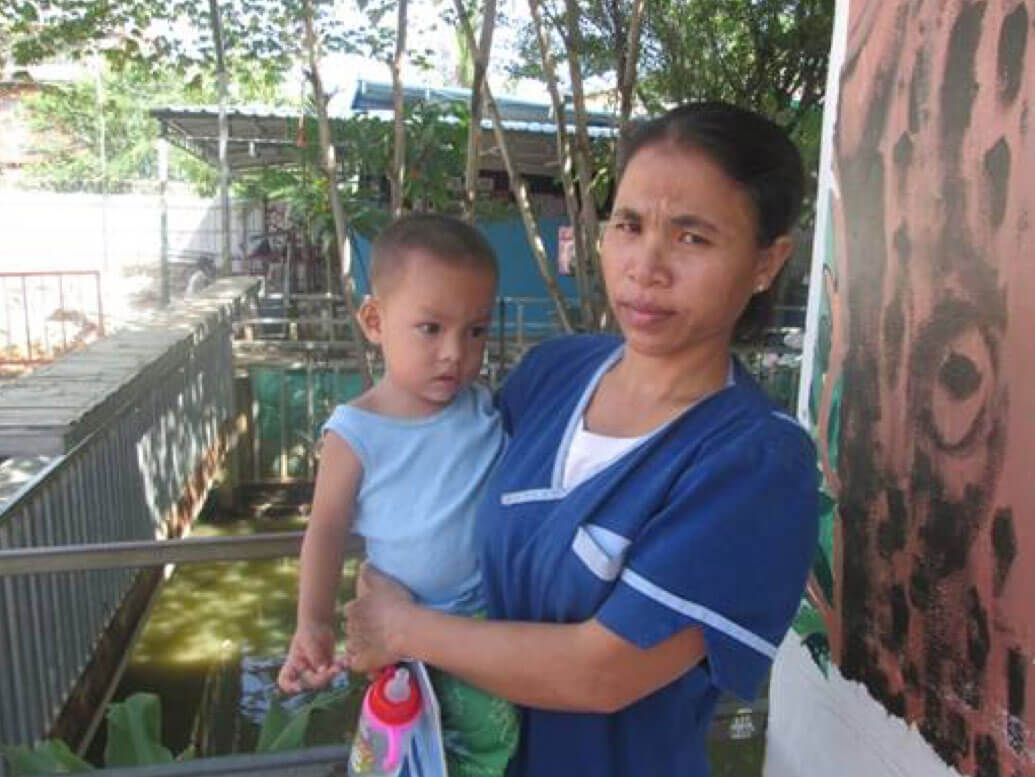 Fortunately, their hard lives changed for the better day by day when Mondol's mother got to know about CCF from their neighbours. When she heard the fact that CCF provides not only good education but also a warm environment and care to poor kids, she took her children to CCF to ask for the learning opportunity of her daughters; however, it was not successful yet. Later, she met Scott when he went out to the community on one of his evening walks. Seeing their hardship, Scott gave his mother a voucher and suggested she take her children to CCF again. Happily, on 30th July 2013, Mondol's oldest sister was accepted into the Satellite Program where, in addition, she can attend public school to receive formal education. Later, she met Scott again when she took Mondol to CCF's clinic to receive medical treatment when he was sick. Seeing that Mondol was unhealthy and suffered from malnutrition, Scott, once again, gave this little boy a place in the Nursery center, where he now receives nutritious meals to eat and he can stay in a warm and loving environment with great care from our nannies. His mother was on top of the world to receive this priceless support from CCF. More happily than this, she herself was also accepted to work as a childcare employee at the nursery centre, where she could have more time looking after her little son. Now, Mondol is getting a lot better and he is always provided with proper meals and clothes and he and his mother also benefit from CCF's health clinic.
And that comes to the end of his life story for now. I hope that you feel you know Mondol and his family a little better after reading through this story. If there is anything further you would like to know about him and his family, please do not hesitate to let me know. I will try as hard as I can to help you. Right now, I am attaching some photos of your boy for you to see. I hope you enjoy seeing them.
Last but not the least, I would like to take this opportunity to say Many Thanks, on behalf of Mondol's family, for your kind heart in sponsoring him. Your physical and financial support do make a big difference to his life. Also, thank you for being a key part of CCF in helping poor children in Cambodia.
That's all for now. Mondol and I send you our love and we hope to hear about you and your family soon.
Have a wonderful day!
Sweet Love,
Mondol and Yimey